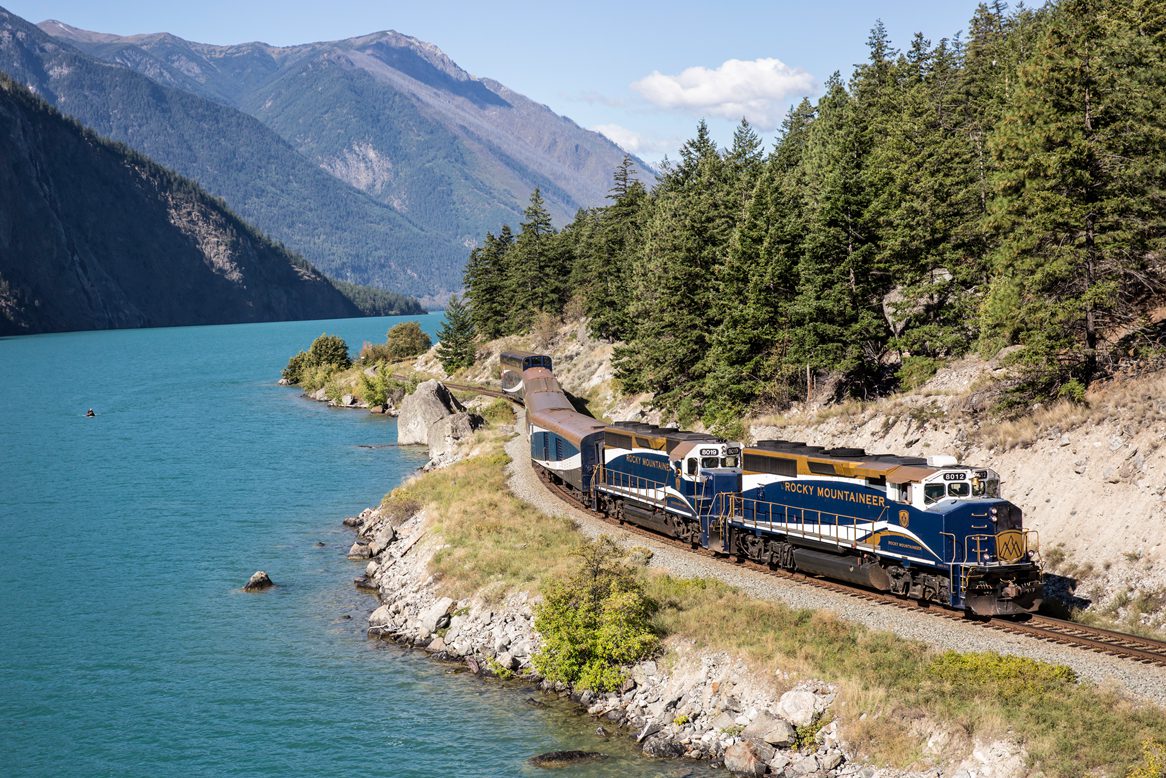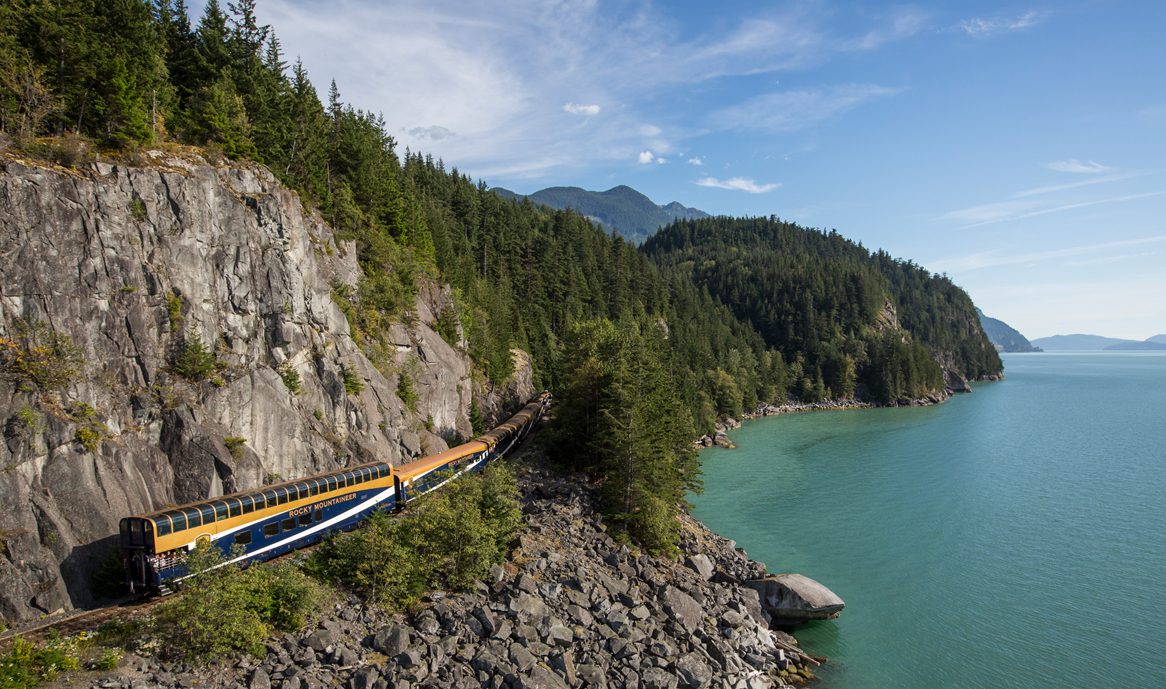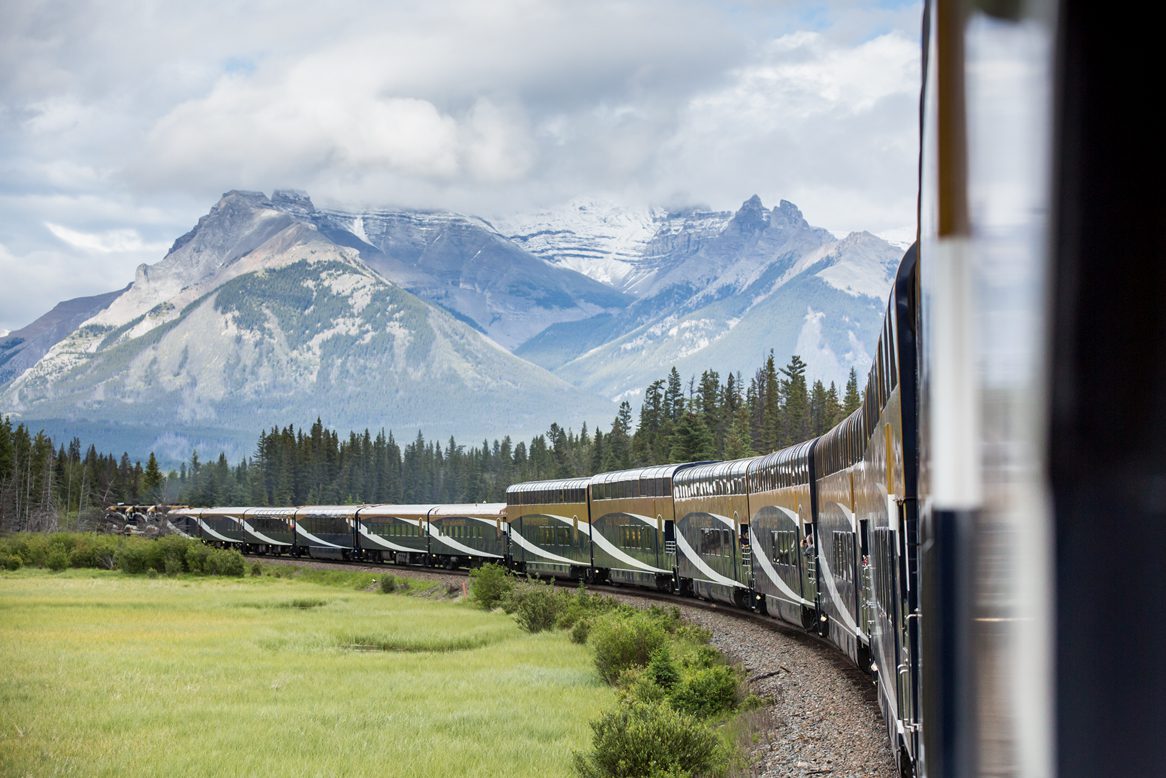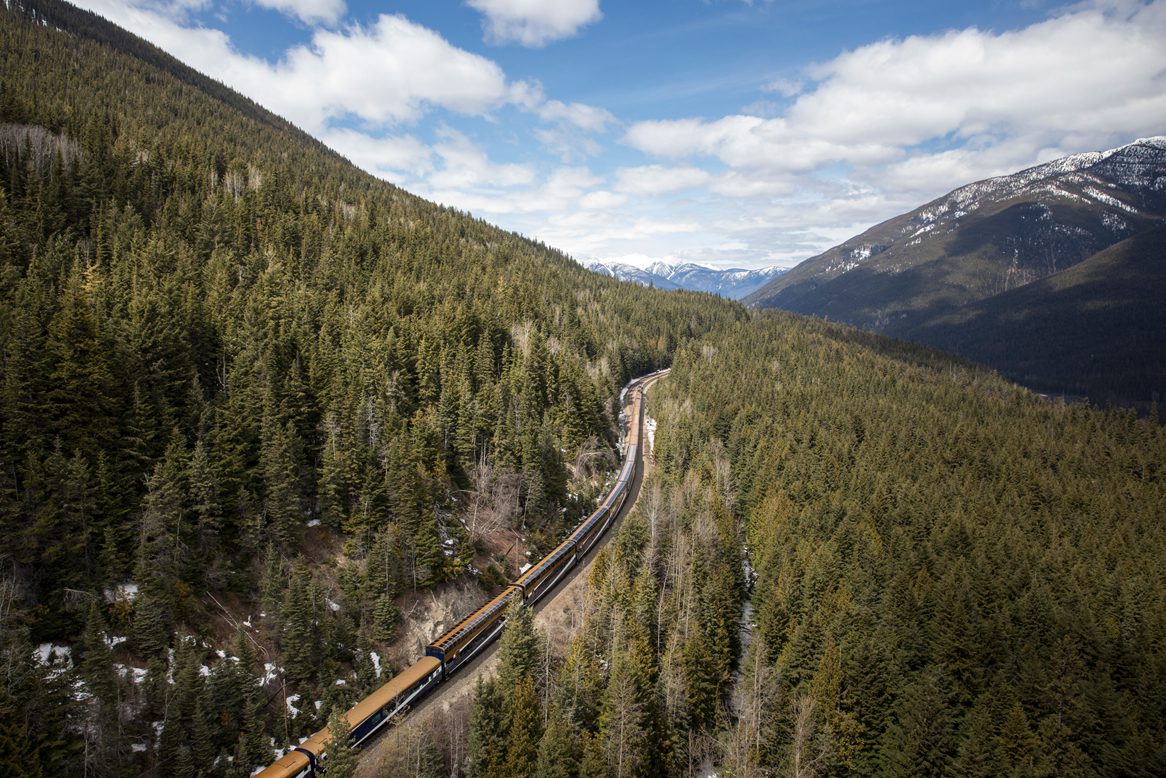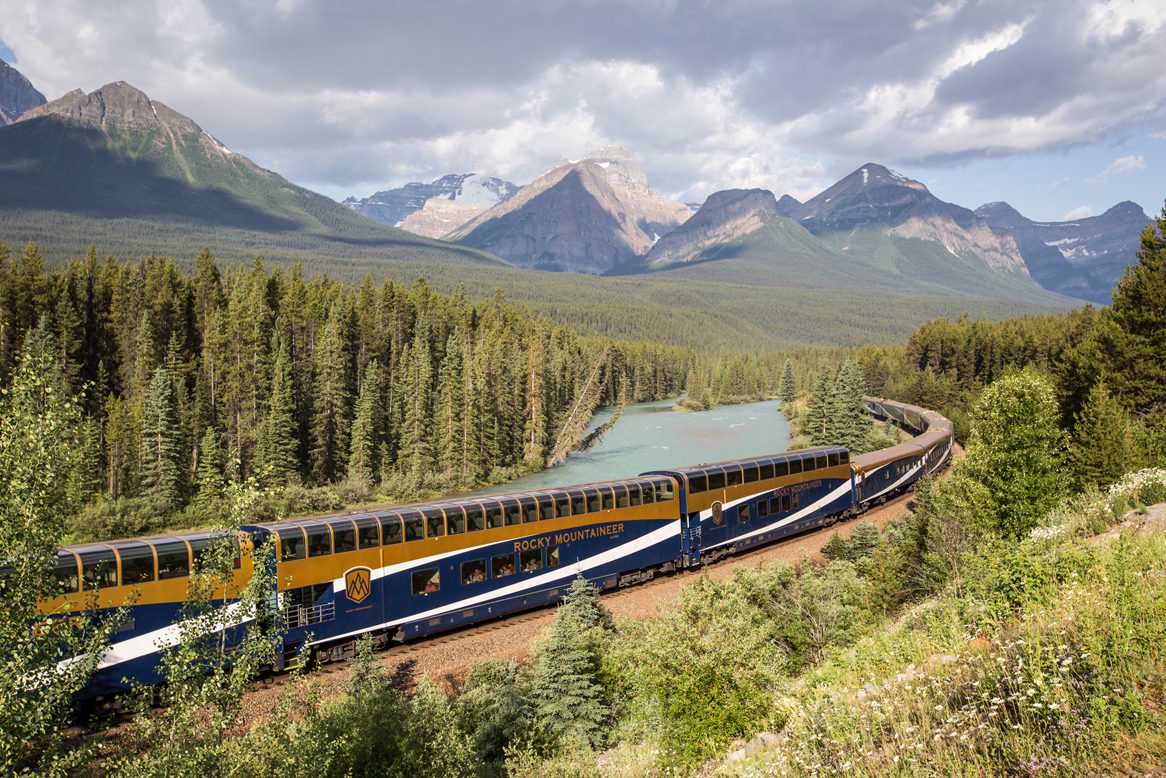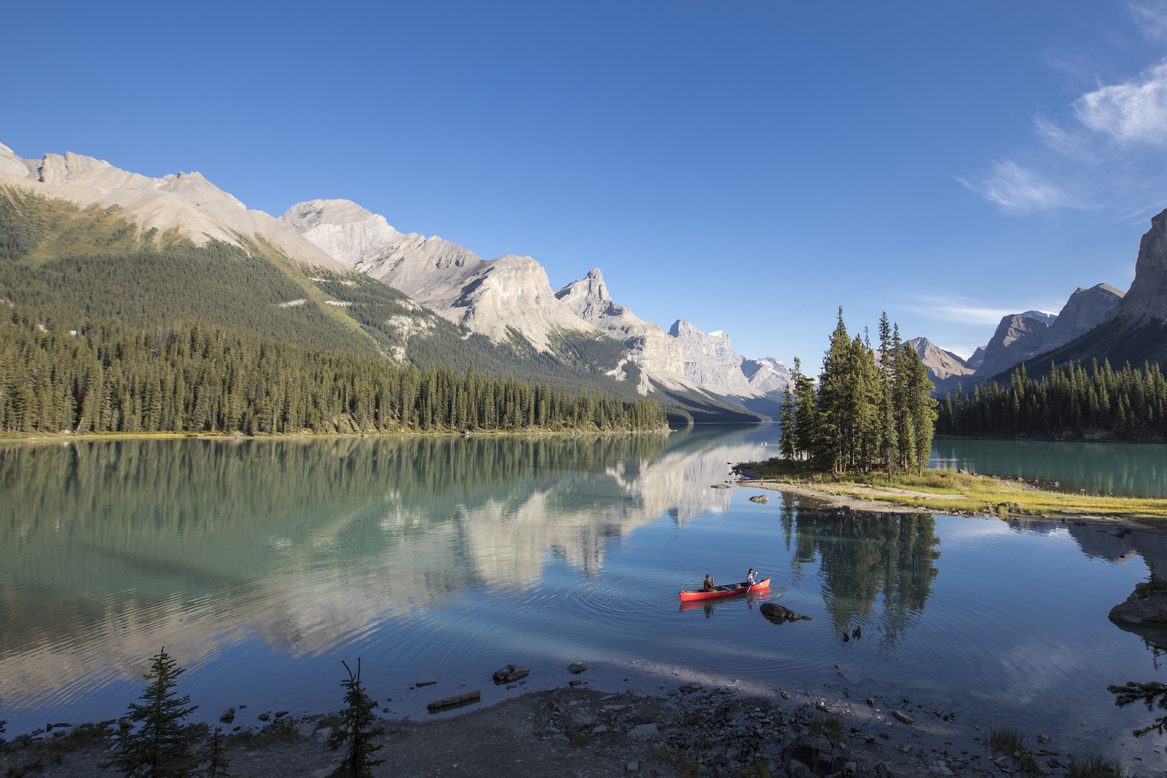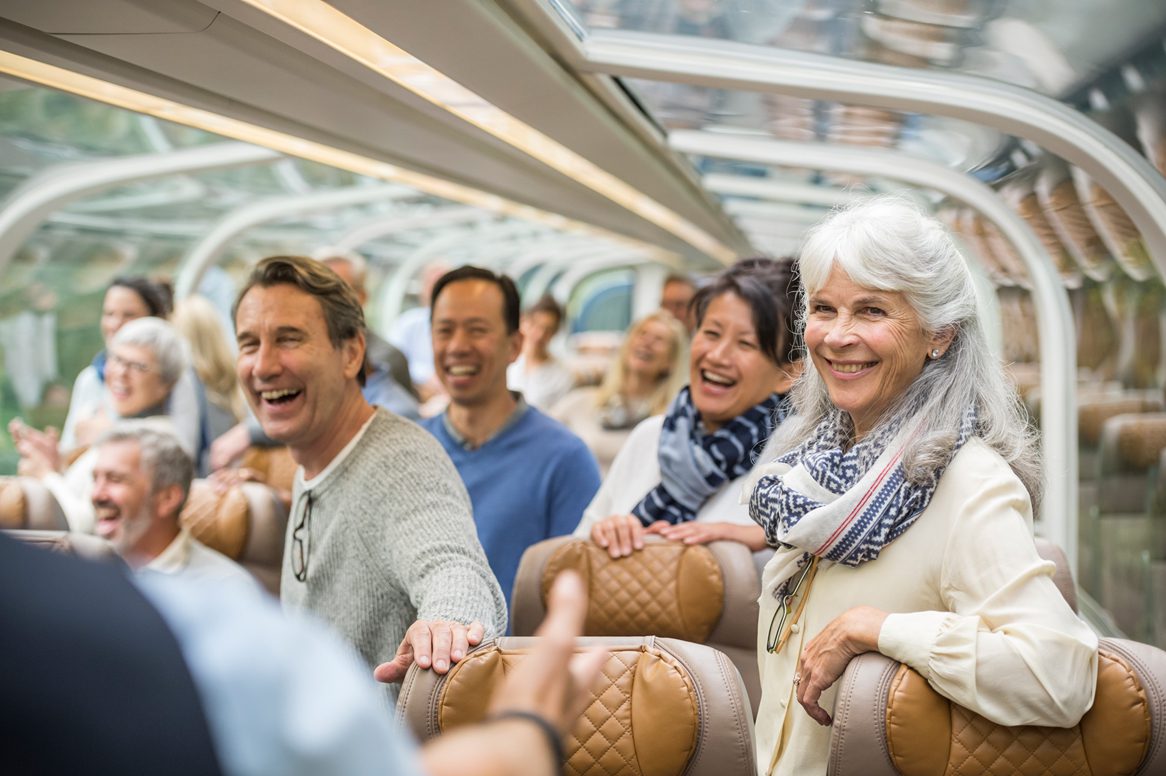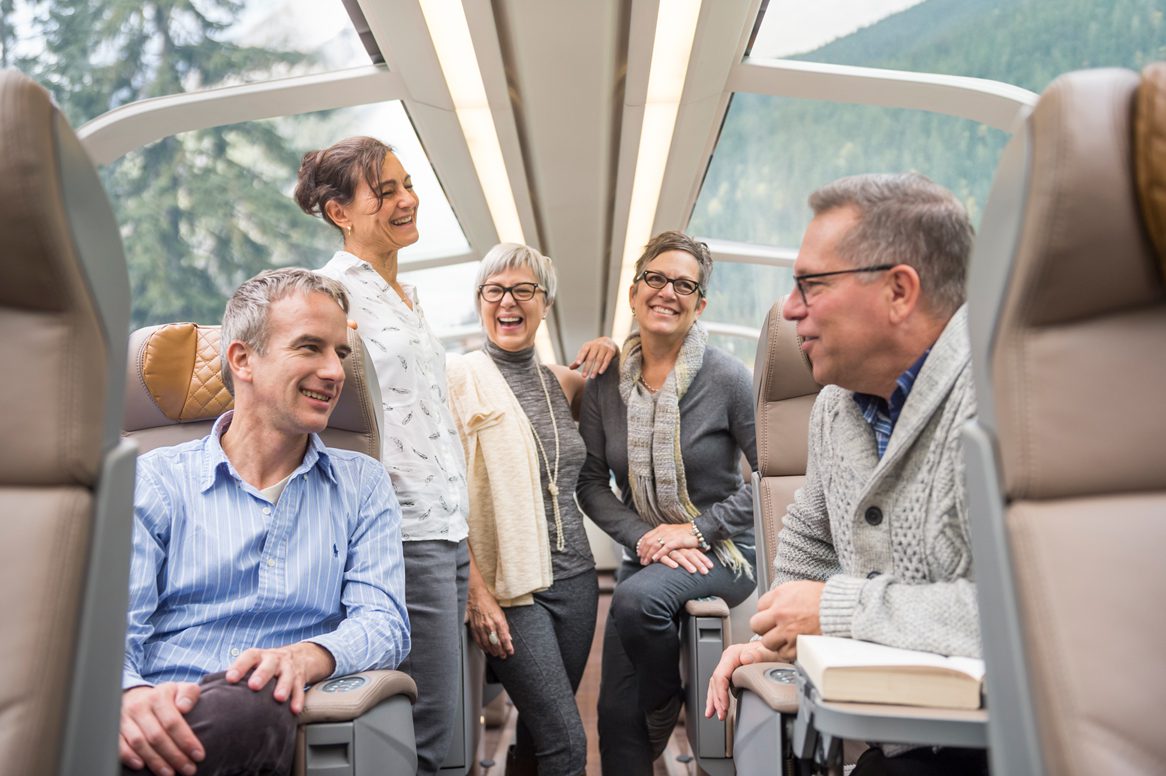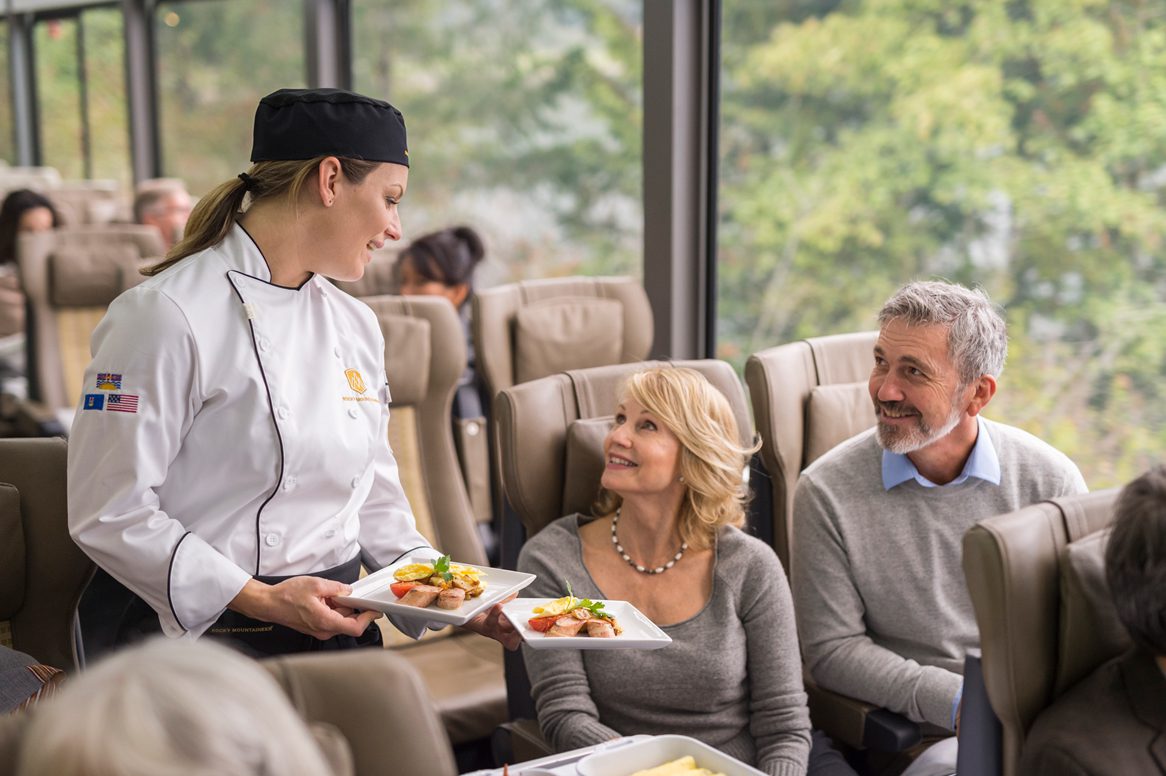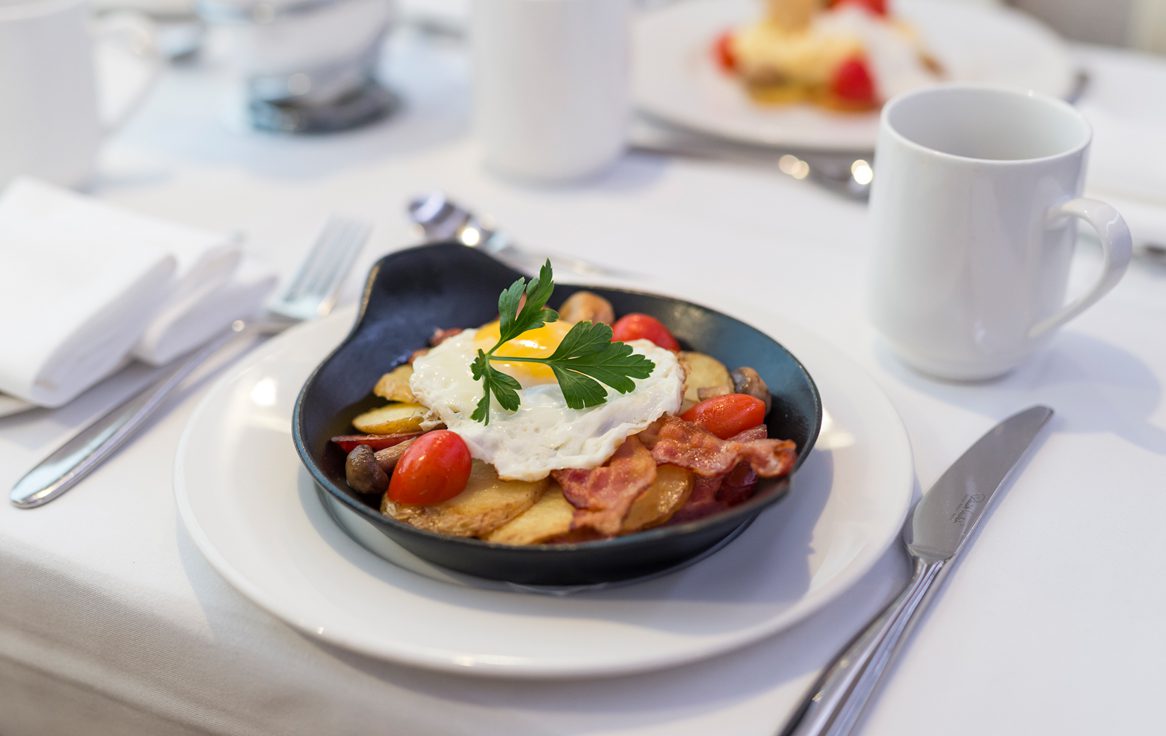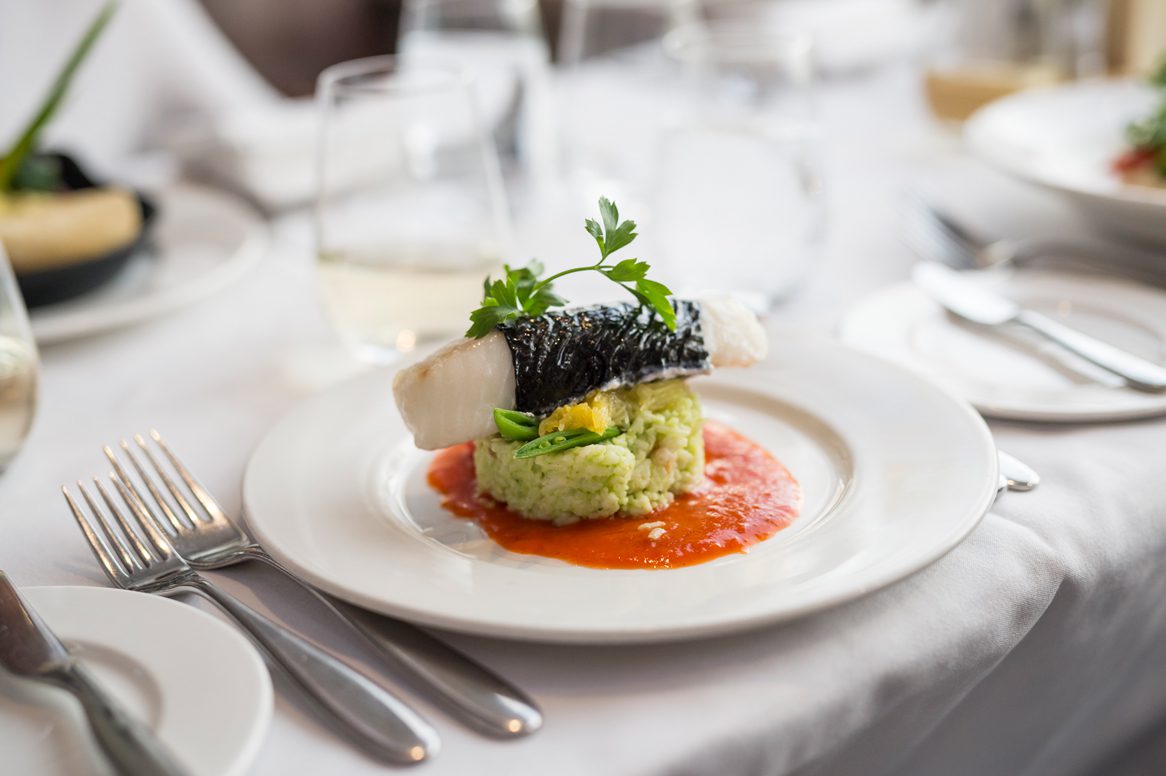 Êtes-vous plutôt un passionné d'histoire ou un amateur de la vie sauvage ? Tout en haut de votre liste, souhaitez-vous suivre l'itinéraire des pionniers chercheurs d'or des années 1860, ou bien apercevoir un aigle en plein vol ou un impressionnant ours ? Rocky Mountaineer, compagnie de trains de luxe du Canada, propose trois itinéraires ferroviaires distincts reliant la ville de Vancouver, sur le Pacifique, aux montagnes Rocheuses canadiennes. Quel que soit votre choix, en vous enfonçant dans votre spacieux siège inclinable avec un verre de vin, vous aurez le droit à un mélange parfait de splendeurs de la nature, de récits historiques passionnants et du service légendaire de Rocky Mountaineer.
Fantastic experience Awesome trip with fantastic hosts. Great food and drinks. Well worth the money in Gold Class so glad we upgraded. Met great people onboard.
The Rocky Mountaineer was magical The Rocky Mountaineer is definitely a trip of a lifetime. We took the journey to the clouds: Vancouver-kamloops-Jasper. To be honest the guest checkin the night before was a shambles- it took 2 agents 20 mins per person to check in! I therefore dreaded the trip might be the same. However, once we got on the train it was brilliant. Great hosts, food, information. I would recommend gold leaf because we had big reclining seats, lots of room and a large vestibule (viewing platform) . I had dreaded 10 hours a day in a train but it went past in a flash between scenery, food, drink and information. I've read some of the other reviews but we didn't mind the delays for freight trains- it was just all part of the experience.
Rocky Mountaineer Jasper to Vancouver Wow just wow! From the service to the scenery! Alex, Alicia and the team in our coach were wonderful! The food was delicious and great choices. Lovelycommentary and entertaining information along the route. Comfortable seating providing wonderful views. Be prepared for the train to be delayed by freight traffic at times but it meant we got to spend longer on the train! Lots of wildlife sightings and amazing scenery most of the journey- the long trek into Vancouver Station is a tad boring as it's mainly in between goods trains so not great views for a good 45/ 60 minutes or more and it's at the end of a very long day.
Wonderful experience! We traveled Gold Leaf on the Rocky Mountaineer in late April 2022. Was a great experience. Wonderful views and learned a lot on the way. The crew was so pleasant and patient. The dining was very good. The process of transfers and luggage handling was excellent!
Money well spent Took the First Passage to the West route westbound from Banff to Jasper. Outstanding in every respect. Customer service, organisation and attention to detail brilliant. Our carriage hosts Kelly and Angus excellent with their personalised service.
Panoramic views and great service! The Rocky Mountaineer vacation was an amazing experience! We traveled from Vancouver to Kamloops, then Lake Louise to Banff. The staff were incredible with excellent customer service and five star food. We were fed all day and they catered to our every need. I am already planning our next adventure with this company. Well worth the money.
Exceptional service!! Rocky Mountaineer exceeded our expectations! It was like the Orient Express through the Canadian Rockies from Vancouver to Banff. Our Stewards, Brian and Jonathon were knowlegeable, entertaining, and could not have been more attentive. Food and drink were absolutely delicious. We felt trully pampered. Thank you for a very memorable vacation!
OnAir34000823746
2023-04-26
A Unique (and wonderful!) experience!!! We just got back from our Rocky Mountaineer (Silver Leaf service) trip - we did a loop. We departed Vancouver on the Journey to the Clouds outbound, and returned on the First Passage to the West Classic, so we stopped in Kamloops, Jasper, Banff (via motorcoach), then back through Kamloops to Vancouver. I will share with you the good, bad and ugly; 99% was good (GREAT!) and the 1% bad+ugly was my fault, nothing to do with Rocky Mountaineer. But I'll share in the hope it makes someone else's trip easier to prepare for!If you're considering an RM trip, you need to remember is that these are not sleeper trains. The reason is that they want you to be awake to actually see the beautiful sights as opposed to sleeping through them. Makes sense! So, you will pack your bag, and it will be transported SEPARATELY from the train to your hotel. That's great, because when you arrive at your hotel, your bag's already in your room. Can't get much better than that. BUT: the next morning, your bag has to be ready to be picked up and transported to the vehicle that's going to take it to your next stop. That's where we hit the 1%. We each had a carryon, but had we known that, for example, the bag had to be ready at 5:50 a.m. (an hour before we needed to meet in the lobby), we would have made sure our carryons could accommodate the toiletries we'd need in the morning, along with our dirty nightclothes, so that we could pack up our big bag the night before and forget about it. Not realizing that cost at least an hour's sleep. Now, in fairness, RM and the hotels will work with you if for some reason the bag can't be ready in advance. So, it's really not a problem at all, as long as you understand why they tell you to pack your vital stuff (meds, jewelry etc) in your carryon. Also, just so you know - wireless service is hit or miss on the route, which is to be expected. OK so that's the 1% bad+ugly and it's really nothing. Let's talk about the 99%!!The rail cars are comfortable. PLENTY of leg room. And the seats recline, but what's neat is in order to recline they slide forward so you never clobber the folks behind you and likewise you won't get clobbered. Awesome! There is no overhead storage because of the window configurations, so any carryon (accommodating your toiletries, meds, jewelry and your pajamas from the night before) will be at your feet. We did not find this to be a problem at all. We had plenty of room. The cars are CLEAN! In SilverLeaf you eat at your seat so there are convenient tray tables, the armrests can go up or down and there are outlets to charge whatever needs charging. And there are two rest rooms which are cleaned multiple times a day. All in all, very comfortable. They do play music when the hosts are not sharing information about the sights, local history, etc, but it's not loud and clearly they know their demographics in terms of the playlist choices. Then there is the food. Breakfast and lunch were both wonderful. The best part is there was nothing fried or greasy. AND the portions were a perfect size (I am American, where portions can be frighteningly huge). Plus there were snacks mid-morning and mid-afternoon. Again, enough to take the edge off any hunger but not enough to where you'll feel like a beached whale at the end of the day. And it was all delicious! Oh and the drink cart - with wine and spirits as well as coffee, soft drinks etc - that came down the aisle several times a day. I didn't partake of alcohol until the last day, and I can tell you the chardonnay was great. Next, let's talk hotels. Remember, if we slept on the train we'd miss the scenery, so at the end of every day there are comfy motor coaches that take us to be reunited with our bags at a local hotel. We found the hotels to be uniformly great: clean, friendly staff, quality amenities. Two of our hotels had on-site restaurants, and the others were within easy walking distance. VERY easy. We were quite comfortable. I also want to mention the motorcoach portion of our trip. To do our loop we had to get from Jasper to Banff and that was where the motorcoach came in. I was somewhat apprehensive about that but it was AWESOME! The driver and attendant (Mike and Mike) were great, as they are "local" and had so much information to share as we drove. The coach itself was very comfortable and well-equipped. And I was surprised and pleased that they were able to stop at several key points along the way for photos, leg-stretching and to hand out bagged lunches and coffee. It took more time than if we'd driven straight through but it was really worth it. So with all I've said, I've saved the best for last. And the best are the PEOPLE. Rocky Mountaineer seems to have a knack for hiring, and retaining, some amazing people. They never stop smiling. They are positive, friendly, engaging, knowledgeable and they work HARD. While the food and other stuff was great, without the people this trip would not be half as memorable. Whether they were serving us on the railcars, standing on the platform directing us, working the RM desks at the various hotels - they were uniformly professional, friendly and very good at their jobs. I hope some folks find this helpful - I've heard people refer to a Rocky Mountaineer trip as the "trip of a lifetime" but that to me implies it's a one-time thing. Not for us! We are already trying to decide on our next Rocky Mountaineer trip!
Rocky Mountaineer Train. Went on a Learning Journey with Rocky Mountaineer for the Canadian Rockies. The staff was AMAZING - and took the best care with us. We started out in Vancouver by taking a City Tour, enjoying the Fly Over attraction and visiting several area attractions. The next day we boarded the Rocky Mountaineer Train and traveled from Vancouver to Kamloops for our overnight stay. It was a long day but we were treated like Kings & Queens. Ja, Kayleigh and Nikola took wonderful care of us and narrated the route as we traveled. The next day we traveled from Kamloops to Banff for a 2 night stay. Again, Ja, Kayleigh and Nikola took wonderful care of us. We did a full day and a half sightseeing in Banff with Brewster Brad who was an amazing guide as he drove the Motorcoach to various natural wonders. Our final voyage was from Banff to Calgary where we stayed in the beautiful Fairmont Pillser hotel. On our final night in Canada, we had a delicious dinner and we're given Calgary Stampede Cowboy Hat to bring home with us. It's my understanding that these hats are very difficult to come by. What a great send off towards home. Thank you to Rocky Mountaineer and our many Tourism Partners for a great trip!
Itinéraire First Passage to the West
L'itinéraire First Passage to the West de Rocky Mountaineer, d'une durée de deux jours, emprunte les voies historiques du premier chemin de fer d'une côte à l'autre du pays entre Vancouver et Banff ou Lake Louise, avec une nuitée à Kamloops.
Passez par les rapides tumultueux de Hell's Gate, ainsi nommés en raison de l'affirmation de l'explorateur Simon Fraser selon laquelle « ce sont sûrement les portes de l'enfer », et par les deux ponts ferroviaires de Cisco Crossing. Entre Kamloops et Banff, vous verrez l'emplacement du » dernier crampon » planté dans le chemin de fer du Canadien Pacifique en 1885, à Craigellachie, et ferez l'expérience de la merveille d'ingénierie que sont les tunnels en spirale. En traversant le parc national de Banff, vous serez impressionné par les vues des imposants monts Castle et Rundle.
Itinéraire Journey through the Clouds
D'une durée de deux jours également, l'itinéraire Journey through the Clouds se faufile de Vancouver à Jasper, traversant certains des coins les plus reculés du Canada, offrant des paysages et une faune largement épargnés par l'homme. Tout comme First Passage to the West, l'itinéraire ferroviaire passe par les impétueux Hell's Gate et Cisco Crossing, et longe les fleuves Fraser et Thompson. Entre Kamloops et Jasper, le train passe par les chutes Pyramid Falls à trois niveaux, alimentées par les glaciers, le mont Albreda et le mont Robson, le plus haut sommet des Rocheuses canadiennes avec ses 3 954 mètres (12 972 pieds). Le mont Robson est si grand qu'il a souvent son propre caractère météorologique, avec des nuages enveloppant le sommet alors que le reste du ciel est bleu. Le parc national de Jasper est une réserve connue pour l'observation des étoiles,la diversité de sa faune sauvage et comme offrant certaines des meilleures aventures en plein air des Rocheuses canadiennes.
Itinéraire Rainforest to Gold Rush
Pour ceux qui souhaitent approfondir l'histoire et la diversité des paysages de l'Ouest canadien – et passer plus de temps dans le train – l'itinéraire Rainforest to Gold Rush, d'une durée de trois jours, emprunte un chemin vers le nord entre Vancouver et Jasper, permettant de s'imprégner des histoires de ceux qui cherchaient fortune. Cet itinéraire ferroviaire est également celui qui compte le plus de ponts à chevalets, ce qui en fait un des favoris des amateurs de trains. Avec des nuitées à Whistler et à Quesnel, ce voyage vous fera traverser la forêt tropicale jusqu'aux paysages alpins, le long du fjord sud de Howe Sound, passer devant les eaux turquoise des lacs Seton et Anderson, voyager sur le plateau désertique de Cariboo, traverser le pont historique de Cottonwood River et admirer le mont Robson. Avec deux des meilleurs centres d'aventure en plein air de l'Ouest canadien sur ce trajet en train, Whistler et Jasper, cet itinéraire ferroviaire est idéal si vous aimez explorer la nature.
Les trois itinéraires ferroviaires sont disponibles dans les deux sens : de Vancouver vers l'est, ou des Rocheuses vers l'ouest, en direction du Pacifique. Vous pouvez donc commencer vos vacances par des visites de Vancouver et des repas dans les restaurants les plus branchés de la ville, ou planifier des aventures au sommet des montagnes et une promenade le long des champs de glace.
Tous les voyages ferroviaires du Rocky Mountaineer se déroulent uniquement de jour, vous pouvez donc être sûr de ne pas manquer un seul instant de ces vues de carte postale que vous êtes venu voir. Et que vous optiez pour le service SilverLeaf ou GoldLeaf du Rocky Mountaineer, vous savourerez une cuisine fraîchement préparée accompagnée d'un verre de vin ou d'une bière artisanale locale, tandis que vos hôtes à bord donneront vie au paysage et que vous échangerez des histoires avec vos nouveaux amis pour la vie.
Vous n'arrivez pas à décider quel voyage vous convient le mieux ? Combinez les itinéraires ferroviaires pour un voyage circulaire, ce qui vous permettra de passer jusqu'à cinq nuits dans le train.
Contactez votre conseiller en voyages sans plus tarder pour organiser votre voyage à bord du Rocky Mountaineer.
CONDITIONS JURIDIQUES DE LA PROMOTION » Dernier Appel »
L'offre « Dernier appel » s'applique uniquement aux nouvelles réservations de forfaits (y compris les trains de 2 jours et 3 jours) pour voyager à certaines dates et directions sur tous les itinéraires Rocky Mountaineer en 2023. Les dates peuvent être modifiées sans préavis. Les réservations doivent être effectuées entre le 1er mai 2023 et le 31 mai 2023 pour être admissibles. L'offre annoncée est par couple et sera automatiquement ajoutée à la réservation. L'offre n'est pas cumulable avec d'autres offres sur le marché, sauf indication contraire. L'offre n'a pas de valeur monétaire, n'est pas transférable, ne peut être reportée à un voyage ultérieur ou appliquée rétroactivement. L'offre ne s'applique pas aux groupes personnalisés ni aux réservations de blocs de circuits de groupe. L'offre est soumise à un contrôle de capacité et peut être modifiée, retirée ou amendée sans préavis. Des arrhes sont exigées au moment de la réservation et le paiement intégral du solde doit être effectué 60 jours avant le voyage. La valeur de l'offre annoncée est de 1 000 CAD de réduction par couple sur les itinéraires canadiens et de 1 000 USD de réduction par couple sur les itinéraires des Rockies to the Red Rock. Tous les chiffres annoncés sont exprimés en CAD ou en USD à titre indicatif uniquement et peuvent varier au moment de la réservation en fonction des variations du taux de change avec le CAD pour les itinéraires canadiens et avec le USD pour les Rockies to the Red Rock. Toutes les réservations sont soumises aux conditions générales de réservation disponibles auprès de votre conseiller en voyages. Des conditions supplémentaires s'appliquent.